"The rebar you need, when you need it, where you need it!"
Upstate Rebar is a major fabricator and supplier of quality reinforcing bar, welded wire mesh, bar supports, accessories and anchor bolts to meet the needs of a variety of industries, including commercial contractors, home builders, municipalities, highway and bridge contractors and DOT work.
Our complete inventory, fully-equipped fabricating facility and our own fleet of trucks allows us to respond to our customers needs with quality products and service, timely deliveries and affordable solutions.
All reinforcing steel will be accurately fabricated by Upstate Rebar per CRSI specifications.
bends in reinforcing bars shall conform to bend dimensions defined as standard in accordance with details in the ACI Detailing Manual or CRSI Manual of Standard Practice.
reinforcing bars and wire shall be cold bent so as to not change the physical properties of the product.
reinforcing bars shall be fabricated within the tolerances shown in the ACI Detailing Manual or CRSI Manual of Standard Practice.

Download the latest version of Adobe Reader
CONCRETE & CONSTRUCTION SUPPLIES
NYS DOT Certified Material
Drain Tile / Sumps & Covers
Geotextile Fabrics
Silt Fence & Trubidity Curtains
Poly (6, 8 & 10 mil) Vapor Barriers
Wire
Expansion Joint - Fiber & Rubber
Anchor Bolts
Form Release
Cements & Grouts
Concrete Cures & Sealers
Concrete Hand Tools
Diamond & Abrasive Blades
Concrete Tube Forms
Rebar Cages
Wall Ties
Lintels
Bollards
Erosion Control Materials
ADA - Cast in Place, Replaceables & Surface Mount
Concrete Repair & Patch Material
Epoxies
Threaded Rod (all-thread; custom)
PRODUCT LIST
Reinforcing Bar
• Black
• Epoxy
• Stainless
• Galvanized
Welded Wire Mesh
• Flat
• Rolled
Mesh Supports
Bar Supports/Accessories
• Chairs
Anchor Bolts
Pre-assembled Cages
Rebar Couplers
Dowel Bar Substitutes
Smooth Dowels
Diamond Dowels
Geotexile Products
Drain Tile
Bollards
Concrete Supplies
• Sealers
• Tools
• Releases
• Expansion Joints
• Poly
Safety fence
T posts
Rain suits & boots
Shovels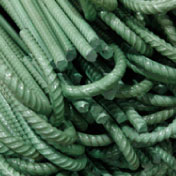 Visit Upstate Steel for more steel, stainless and aluminum products.